Polling the American People
Since 2015, JUST Capital has surveyed more than 96,000 Americans on what they believe U.S. companies should prioritize when it comes to just business behavior. 
The results – which together comprise one of the most comprehensive bodies of public research ever compiled and utilized to measure companies – show that time and again, Americans want to see companies support all their stakeholders, starting with their workers, customers, communities, the environment, and finally, their shareholders.
A Roadmap for Stakeholder Capitalism
In 2019 – amidst uncertainty about what comes next after the Business Roundtable announced its new Statement on the Purpose of a Corporation – JUST Capital released its "Roadmap for Stakeholder Capitalism" and the results of our 2019 Survey, which details the Issues and stakeholders the American public wants U.S. companies to prioritize most to restore declining trust and create an economy that works for more Americans.

The clear question is, what's next? How do we turn words into deeds? What can companies actually do to measure and improve their performance on these issues?
Bringing this vision of a more just, equitable, and fair economy to life is what JUST Capital does. Our blueprint is drawn by the priorities of the American people and built on years of corporate performance analysis, data, and research. 
This year, our research has identified five distinct stakeholders the public wants business to serve, which mirror those in the framework recently adopted by the Business Roundtable, including how a company:

The metrics we utilize to measure justness within this framework give companies a clear way to monitor performance and benchmark themselves against their peers. Based on our work and the public's priorities, here are seven key actions that corporate leaders and boards could take today to align more closely with the stakeholder model: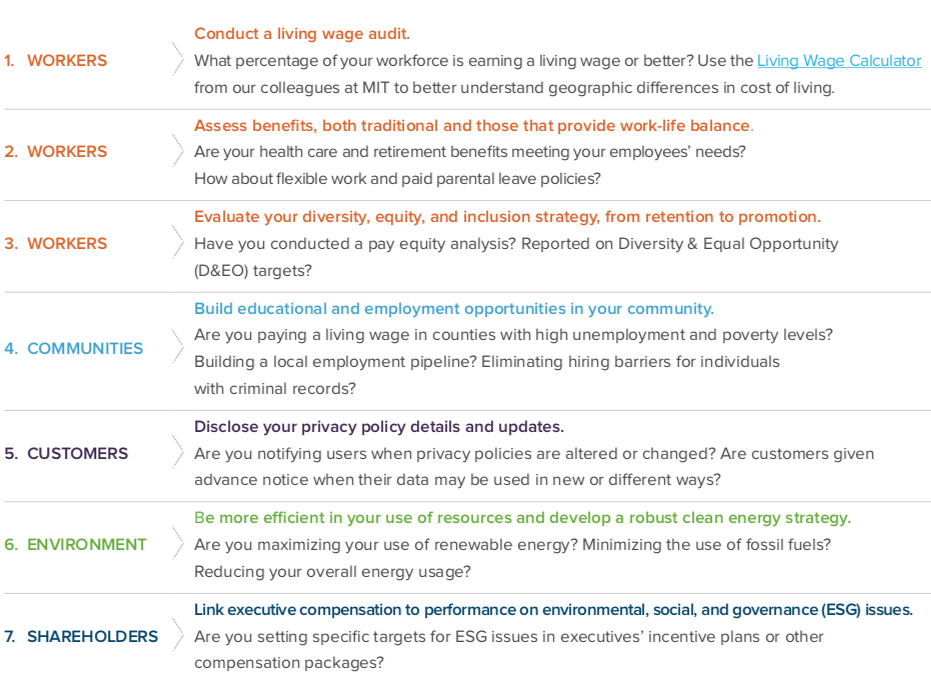 The People's Priorities
In this year's survey, we aimed to get to the heart of what Issues matter most when it comes to just business behavior – and to provide more specific guidance to companies looking to improve performance based on this stakeholder model. 
In collaboration with NORC at the University of Chicago, JUST Capital asked a representative sample of more than 4,000 Americans to compare 29 different business Issues on a head-to-head basis, producing a reliable hierarchy of Issues ranked in order of priority. We then assigned each Issue to the stakeholder it most impacts.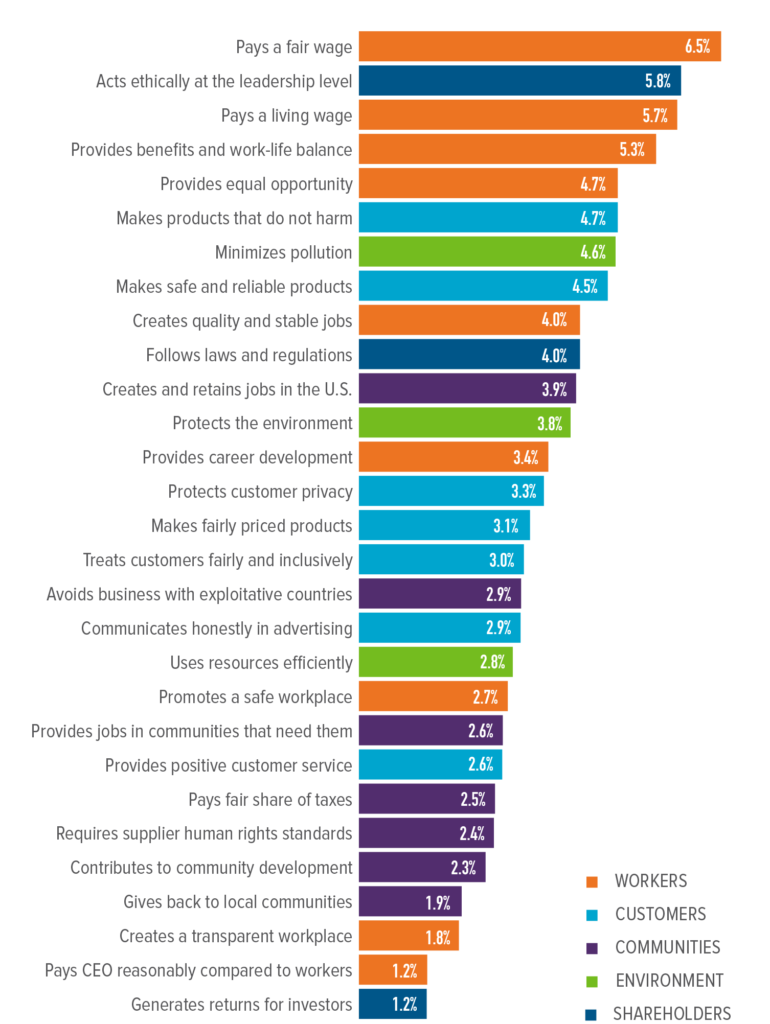 The key takeaway? Across many demographics – liberal, conservative, high- income, low-income, men, women, millennials, and boomers – Americans placed worker-related issues – pay, benefits, and treatment – at the heart of just business practices.
To provide further clarity around how to better balance stakeholder interests, we classified each Issue by the stakeholder it most impacts. The percentages below indicate the sum of the underlying Issues associated with each stakeholder.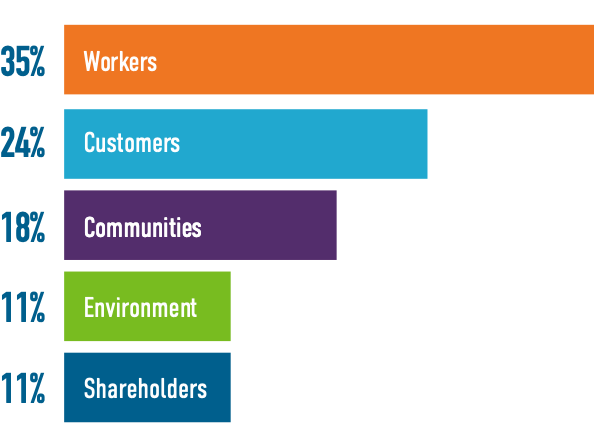 Analyzing Companies
To see how we track, measure, and rank companies based on the priorities of the public, visit the Issues section of our website where you can explore all of the underlying metrics powering our corporate analysis, and explore our Rankings to see how our survey research underpins our analysis of the largest, publicly traded U.S. companies.
Americans' Views on Business
Below, we shine a light on the American public's current views on business, drawn from our extensive survey work, and explore how these views can shape corporate behavior and society overall.

The Business Roundtable's Statement on the Purpose of a Corporation declares, "Americans deserve an economy that allows each person to succeed through hard work and creativity and to lead a life of meaning and dignity."
This year, we asked Americans what they thought of this statement and found overwhelming alignment, with 95% of respondents agreeing that Americans deserve this more just economy.
But when we asked respondents how well they think large companies are actually doing in delivering on this vision, the results show much room for improvement:


For three years running we've found that four out of five Americans (79%) agree that employees don't share enough in their companies' success, and that a majority believes that companies prioritize their shareholders above both employees and customers: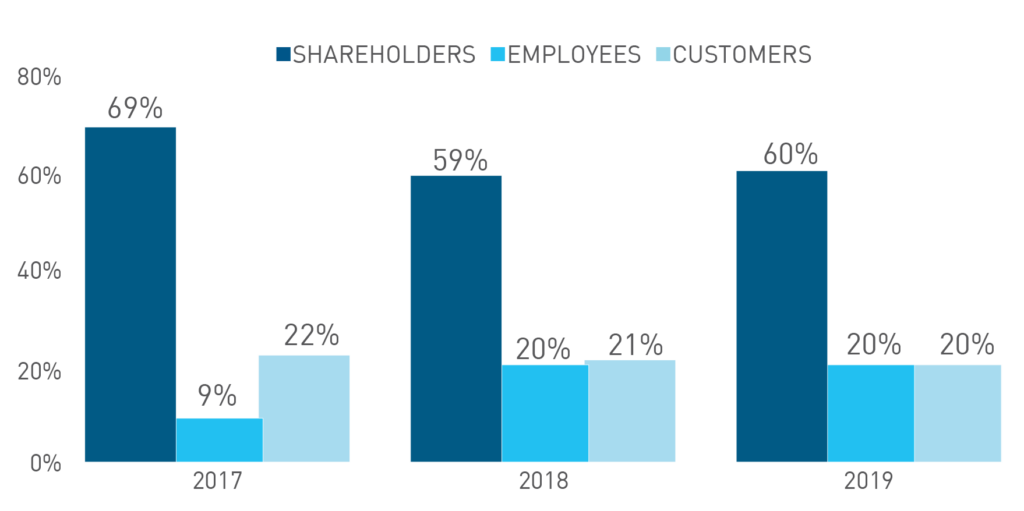 In 2018 and 2019, we asked Americans whether they believe companies are having a positive or negative impact on society, and in 2019, we saw overall perceptions become more negative:
Trust in large companies dropped 11% – from 54% to 48% – leaving

less than half the population trusting corporate America

.

Fewer Americans see companies' impact on society overall as positive – with

perception declining by 17%

, from 58% in 2018 to 48% in 2019.

Finally, positive perceptions around the impact business is having on work-life balance, jobs, the environment, and local communities

dropped between 8% and 12%

in 2019.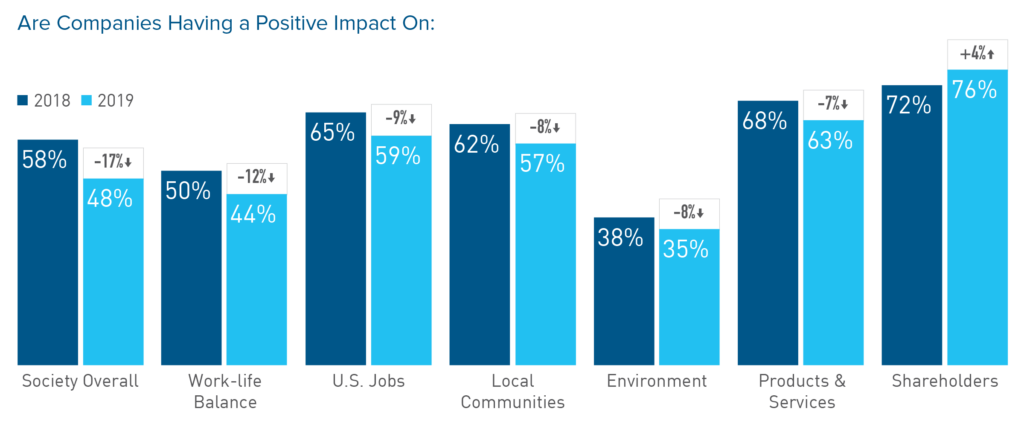 Why it All Matters
Working Together
Despite the declining trust and negative perceptions, Americans have faith in the power of business to play a constructive role in solving key societal challenges. Indeed, they believe that they themselves can play a key role and that, empowered with the right information, they can help make a difference by supporting just companies.
In 2019, 82% of Americans believe that, when they work together, they can be effective in trying to change companies' behavior – a significant and heartening 16% increase from 2017: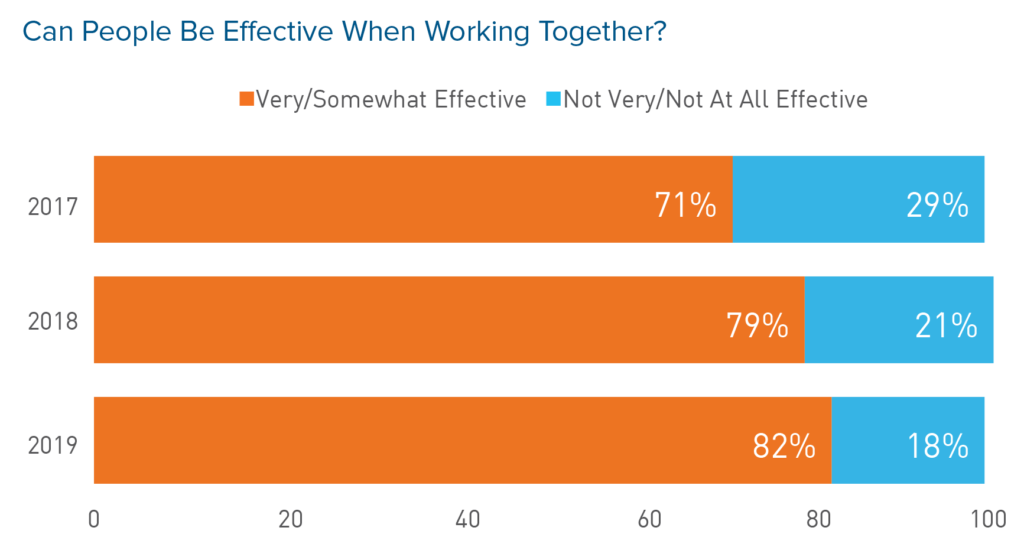 Taking Action to Show Support
To explore what driving change could mean, we asked Americans whether they had taken actions like purchasing products or services, applying for a job, or making an investment based on their support for a company's positive behavior.
78% of respondents said they had taken at least one of these actions previously, with 61% saying they had done so in the last 12 months. Of that 61%: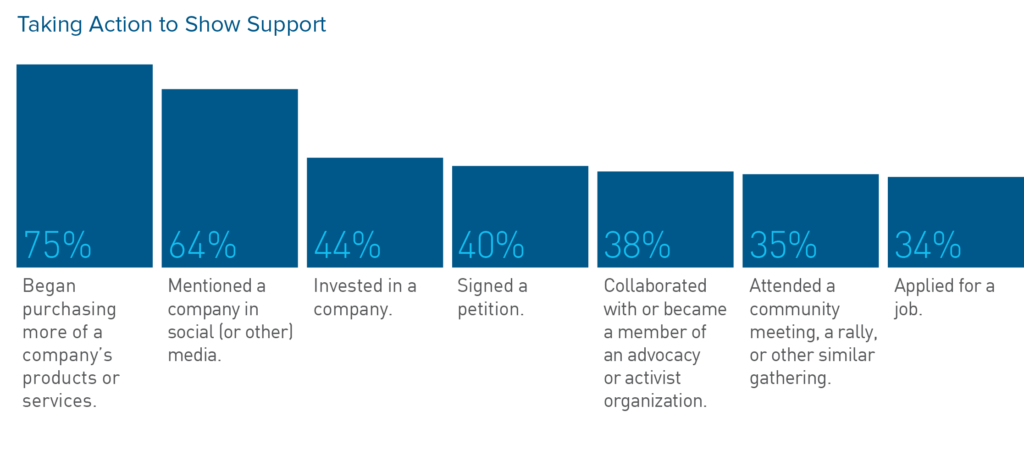 Working for Just Companies
Over the past two years, we've asked American workers to imagine they're considering accepting a job and have to choose between two companies – one that is more just but pays less, the other that is less just but pays more.
Consistent with 2018, three out of four working Americans in 2019 say they would choose to work for the more just company – even if it paid less (76% in 2018, 74% in 2019).
In fact, this year, 78% of American workers said they would accept 10% less pay to work for a more just company. And a sizeable majority at 66% said they would accept 20% less pay.
Taking a Stand
We also asked whether they believe that the CEOs of large companies have a responsibility to take a stand on important social issues, and 59% agreed that they do.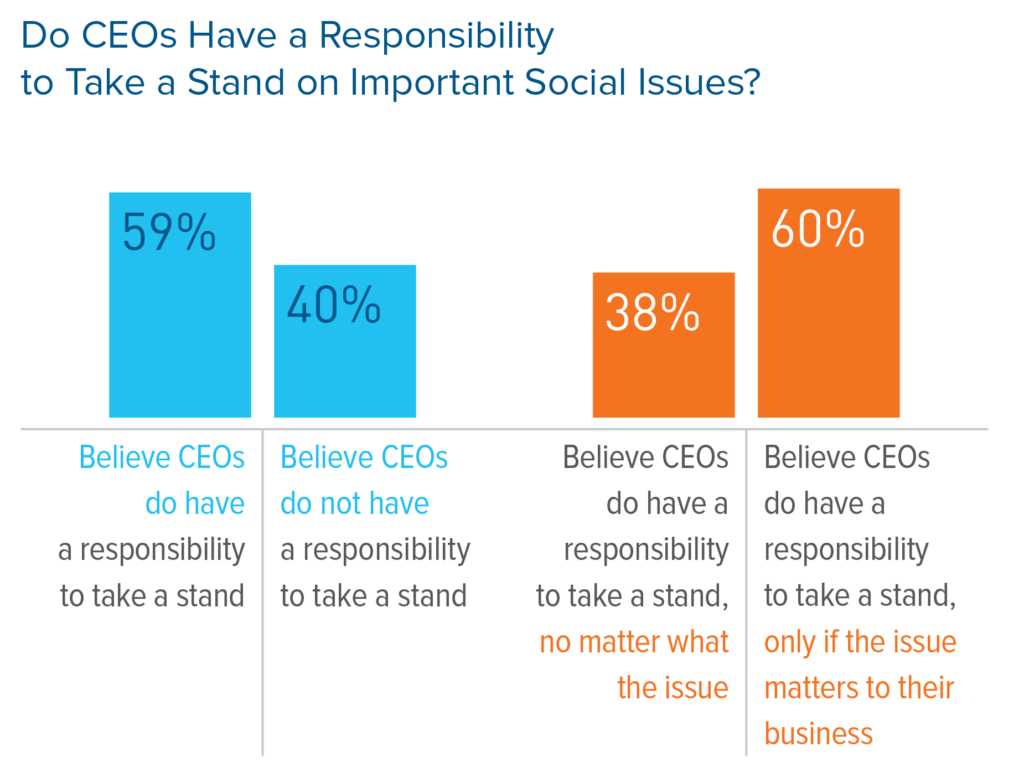 Using the Public's Priorities as a Roadmap for Stakeholder Capitalism
The path forward is clear. Americans want to see companies shift from a focus on shareholders toward supporting all the stakeholders impacted by their business: including their workers, customers, communities, the environment, and their shareholders. It's what we heard from the Business Roundtable, and it's what the public wants too . And as ourJUST Alpha and index work shows, it's also better for shareholders.
This report provides clear guidance on how companies can reevaluate their priorities and better align their practices with the values of the American people. And it shines a clear, bright light on the specific actions businesses can take today to rebuild trust in business and markets as a force for good.
Please explore the full report – which includes our overall methodology as well as details on each question – here.